The Warringa Crescent Campus at Warringa Park School is a dynamic, thriving learning community where parents, staff and students share a common goal: excellence in education and personal growth. Our main vision is to ensure all of our students have the best start to their schooling journey. We aim to create independent learners who have the skills and dispositions of life-long learners. Our lower primary comprises prep to grade 3. All students are supported to develop fundamental skills that will travel with them throughout their schooling journey.
We believe that our students' learning experiences must reflect the world they live in, with rich technologies and science embedded within the learning environments. Our one to one iPad program provides students with a wealth of opportunities to engage, connect, create and communicate effectively.
At Warringa Park School, we instil our school values of learning, respect, and working together into all areas of teaching and learning practices to empower students to carry these skills into the community and throughout their lives.
Through Inquiry Learning, students are encouraged to explore, experiment, wonder, inquire, practice, invent, create, imagine and play. We want all our learners to be actively engaged and involved fully with a hands-on approach to all learning experiences.
We take pride in our successes, which are based on quality teaching, curriculum and assessment. Our teachers use the most effective tools to assess and track student progress, guided by research-based effective strategies.
The home-school partnership is a crucial component to the success of our learners. Regular communication by teachers and valued parent input ensures consistency between home and school learning environments.
Our program is designed to enable all students to achieve positive learning outcomes, build upon previous knowledge and skills and experience success.
At Warringa Park School we work towards a common goal of making education accessible to all our students regardless of their needs or abilities.
The Upper Primary Learning Centre comprises of students who are in Grades 4 – 6 according to their date of birth. All classrooms are carefully created with the individual learning needs of each students in mind. We ensure that each classroom has the environment to best foster learning, creativity, independence and sociability.
Our Upper Primary students are working at diverse levels with the Victorian Curriculum, ranging from Level A through to Levels 3 and 4. Teachers design lessons that are differentiated to meet the individual learning needs of all students within their classes. Students access their learning in fun, hands on and engaging ways where they use the iPad and various resources to explore, experiment, wonder, inquire, practice, invent, create, imagine and play. Our staff members regularly engage in professional learning opportunities to continually learn new and creative ways for their students to access the curriculum.
Students in Upper Primary have the opportunity to experience programs where they build various personal and social capabilities such as teamwork and problem-solving skills. These programs include: Camps, Boys Groups, Girls Groups, Equine Therapy and more.
Staff have a collective responsibility for all students within the Upper Primary Learning Centre. This attitude allows for our staff to work together in a collaborative way to ensure the best outcomes for our students.
The Upper Primary team consists of four Professional Learning Communities (PLC). The main focus of the PLC is to build one another's practice through classroom observations, planning and interpreting student data to inform practice. Each PLC is led by an experienced teacher who guides the team to plan using the individual data collected on each student. The team meets on a weekly basis and works through an Inquiry cycle process to plan highly engaging and focused lessons which are embedded in quality research and teaching practices.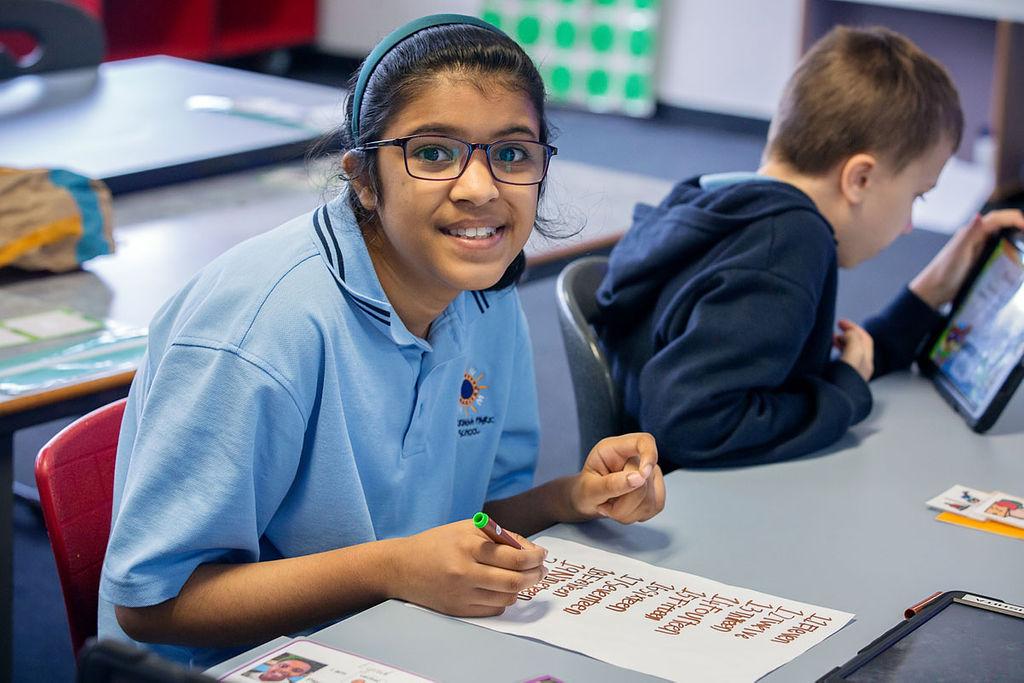 Welcome to the vibrant and supportive Year 7 – 9 Learning Community at the Bethany Road campus of Warringa Park School. There is a collective commitment among staff at Bethany Road to the cognitive and social development of your child as they transition physically, intellectually and socially into young adulthood.
The students at our campus explore local and global issues by engaging in experiences that support their preparation for their personalized pathways of senior Later Years. These authentic experiences have the clear purpose of building skills for students to participate and communicate successfully in the world beyond our campus. Students are offered increased opportunities to discover how best they learn, how to manage themselves, and how to work collaboratively with others. They are challenged to take responsibility for their own learning and be future orientated. Regular learning conferences are held between teachers and students to identify goals for the future and areas of support your child will require to achieve their goals.
Educational research indicates that the most important factor influencing educational outcomes is the quality of teaching staff and the highly skilled and dedicated teachers and education support staff in our learning community are focused on 'improving learning outcomes for all our students'.
The Later Years curriculum programs are designed to enable students to learn in a variety of settings and contexts. This enables every student to transfer their learning to real life situations. Located on the school grounds of The Grange P-12 College (secondary campus), our Bethany Road Campus offers the Victorian Curriculum Framework for years 7 – 10 whilst preparing students for their pathway into the senior certificate.
Warringa Park School Cayleys Road Campus was established in 2013 as a vocational learning environment for students with additional support needs. The campus is set in the surrounds of the market gardens in Werribee South and the teaching and learning is focused on building the skills and knowledge students will need for their post school pathways. In 2022 Cayleys Road Campus will open its new school buildings which have been purpose built to cater for all of our Senior Secondary students. All Warringa Park Schools year 10 – 12 students and a cohort of year 9 students will attend the campus. 
The students at our campus will explore local and global issues by engaging in experiences that support their personalized pathways. These authentic experiences have the clear purpose of building skills for students to participate and communicate successfully in the world around them and beyond our campus. The Later Years programs are designed to enable students to learn in a variety of settings and contexts. This enables every student to transfer their learning to real life situations. 
Our campus offers the Victorian Curriculum Framework and the Victorian Certificate of Applied Learning. All teaching and learning is delivered through applied activities and supported by eLearning. Programs are offered by many different providers and give students genuine learning opportunities and pathways beyond school. 
Our team of highly skilled Teachers and Education Support Staff are dedicated to improving learning outcomes for all of our students and are committed to supporting students to achieve their personal best during these important final years of school. Our staff work closely with families and external providers to develop post school pathways and opportunities for all our students. 
Warringa Park School offers a range of specialist programs that extend learning beyond the regular classroom environment. With teaching staff, learning environments and resources tailored to the specialised subject areas of Physical Education, Visual Arts, Digital Technologies, STEAM, Music and Performing Arts, these programs are engaging and purposeful, providing authentic learning experiences that promote imagination, creativity and communication, now and into the future.
Visual Art
Visual Arts is an important part of the curriculum at Warringa Park School. We are committed to ensuring that each student is provided with the opportunity to develop their abilities and succeed at their level, expressing their own creativity using a wide and varied range of materials and art making processes. The activities we plan promote curiosity, engagement experimentation, confidence and independent creative thought. Students at all levels learn technical and collaborative skills and are given opportunities to display their work alongside their peers. Visual Arts exhibitions are held at school throughout the school year to celebrate student success, during events and festivals such as Harmony Day in Term 1, ANZAC Day celebrations, regular displays of student work in our student cafe, Cafe 11, and our End of Year Festival celebrations.
Digital Technologies
As an Apple Distinguished School, with a 1:1 iPad program, Digital Technologies are central to all our teaching and learning at Warringa Park. The DigiTech specialist program focuses on supporting students to interact with a range of digital systems, learning how to control and use them confidently, creatively and safely.
Students will have the opportunity to explore a range of applications, educational games and online content to develop their ability to apply computational thinking, understand data and information, and create digital solutions to real-world problems.
DigiTech also has a strong Cybersafety focus, supporting the positive, safe and responsible use of technology in a connected world.
Music
The focus of the Music Program at Warringa Park is to engage and inspire all students. The program is student centred and caters for all skill levels and abilities with age appropriate musical genres. We also have a tremendous range of instruments available for students to use, including acoustic and electric drums, bass guitars, electric guitars, hand held percussion, keyboards, piano, keytar, u-bass and many other instruments. The activities in Music help learners develop their motor skills, social interaction and collaboration. Throughout the year we celebrate the success of our students with performances during our festivals and events such as Harmony Day, End of Year Celebrations, ANZAC Day, drumbeat and choir performances.
Physical Education
The Physical Education program at Warringa Park School enables students to improve and maintain their physical activity levels, fine and gross motor skills, as well as student concentration and coordination. Students are supported to engage in differentiated movement activities in a range of environments catered to their individual needs. Students are offered many different sports throughout the year and are supported to develop the skills and knowledge to be successful. Students' teamwork skills are supported through minor games and introducing rules and sportsmanship in Physical Education lessons.
Warringa Park School offers state of the art facilities that include a gym, climbing wall, perceptual motor zone, sensory board, play yards, fitness zone, outdoor basketball and soccer ovals and trampolines. Students have the opportunity to explore and engage in these different environments regularly.There are many exciting opportunities
where students engage with the wider community such as Interschool Sports, Sporting Schools, School Swimming and VU Sports. Students are also able to express their personalities in different groups such as dance and sport groups. There are also opportunities to attend different camps such as bike camp. .
Performing Arts
The Performing Arts program at Warringa Park School combines elements of drama, dance and media arts, giving the students the opportunity to develop their ability to respond, explore, create and evaluate their own and others' work in a fun and engaging environment.
Students will explore character, setting and story through a range of sensory, performance and digital activities. Students explore at their own level, from learning to respond creatively to stimuli, fostering their ability to participate in creative and dramatic play, to learning performance techniques and conventions, using them to develop their own live and digital performances.
STEAM
STEAM is an educational approach to learning that uses Science, Technology, Engineering, the Arts & Maths for guiding critical and creative thinking. STEAM is about students learning through doing, to understand and investigate living things, materials and their physical world. Warringa Park students are supported to work at their own level with activities that offer the opportunity for hands-on exploration, experimenting and time to explain their findings. They will be engaging in sensory science activities, real world problem solving, measuring, designing and creating. As well as learning how to use scientific equipment safely to become inquisitive learners, that are active questioners and skilled investigators.